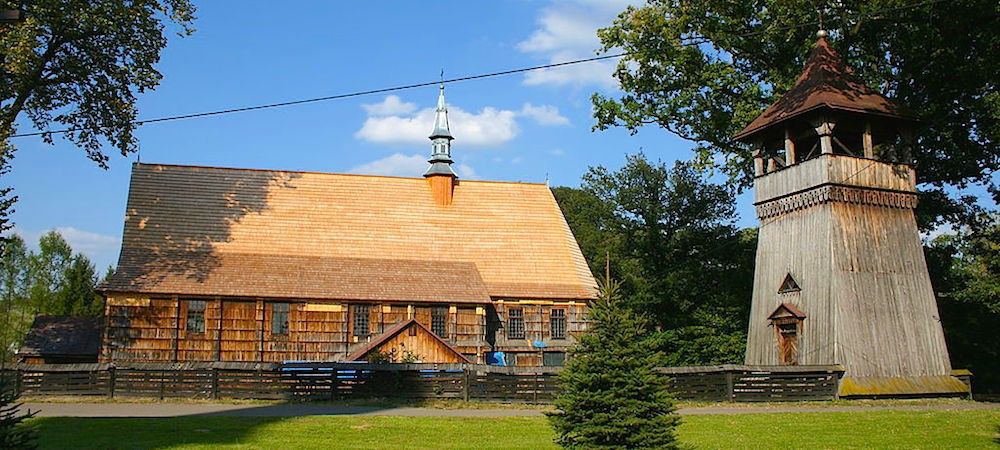 Domaradz is a large village known for beautiful panoramas, two historic wooden churches and the fact that its population shows the lowest mobility rates in Poland. They simply like it in Domaradz so much that they never leave.
---
The village, situated on the river Stobnica, was established in 1359 and in time, like Blizne and Brzozów, became property of the bishops of Przemyśl. It is one of the biggest villages in the region and actually looks like a town, with a town square in the centre and high-density development.

Domaradz is worth visiting to see the St Nicholas church, built probably by the same carpenters who constructed the UNESCO Heritage church in Blizne for the bishops of Przemyśl.
As the village developed, it needed a bigger church and in the second half of the 19th century the church was significantly extended – made longer and divided into three aisles. It became more functional, but lost the typically Gothic characteristics of construction, notably the lower ceiling along the sides. At the same time, the remodelling did no harm to the beauty of the church as it retained the beautiful, soaring silhouette it received from the medieval masters. It is now additionally emphasised by the wooden bell tower; not less Gothic than the church itself even though added only in 1936.

The interior is mainly Baroque. The worshipped painting of Our Lady of Perpetual Help has been moved to the new church, also dedicated to Our Lady of Perpetual Help. The work on it began in the 1980 to the design of a Krosno Georgian, the architect Ruben Bardanashvili. The work took around fifteen years and the church was consecrated in the Great Jubilee year of 2000.

In the quarter of Domaradz called Zatyle, by the road leading to Dynów, there is another wooden church. Despite its traditional appearance, it is a relatively new church, built by the inhabitants of this part of the village as a branch of the parish in the years 1946-1950 and dedicated to the Immaculate Heart of the Blessed Virgin Mary. Some traditional architectural and woodworking solutions were used in the building and its splendid appearance today is the result of renovation work carried out in 2008-2009.



---

fot.: wikimedia.com, M. Szadkowski, CC-BY (1), arch. Arete sp. z o.o. (2)