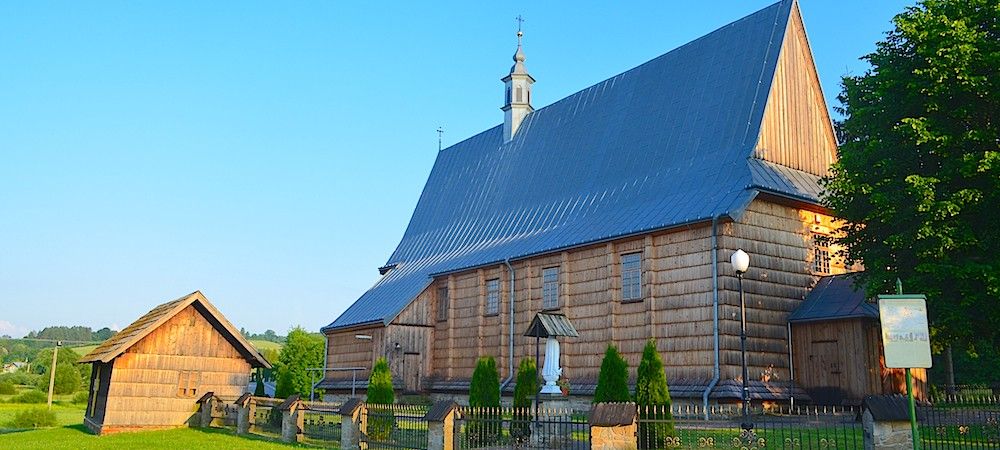 This exceptionally charming village hidden among the hills of the Pogórze is where you can still see many traditional wooden houses and a pearl of the Wooden Architecture Trail – a larchwood church dedicated to St Barbara and the Nativity of the Blessed Virgin Mary.
---
Golcowa was established on the lands of the bishops of Przemyśl in the middle of the 15th century, on the privilege of the bishop Piotr Chrząstowski. It was to be called Piotrawin (or Piotrowin) – a name referring to one of the miracles attributed to St Stanislaus, and to the name of the founder. However, the lokator of the village, Maciej Golec, managed it so well and impressed the inhabitants so much with his resourcefulness that they "abandoned" the official name and took to calling their village the Golec's village, that is Golcowa.

Probably around the same time the churches in Blizne and Domaradz were built, in the second half of the 15th century, the bishops of Przemyśl employed a skilled group of master carpenters to build the wooden St Barbara's church in Golcowa. It was then extended in the second half of the 19th century because of the growing number of the congregation – with detriment to its Gothic characteristics. Still, making the building longer and dividing it into three aisles did not harm its soaring outline or take away its unique beauty, created in medieval times and still fresh – the building could be a model for historic buildings maintenance. Inside, despite some remainders of the Gothic, the dominant style is the Baroque.

---
fot.: arch. Arete sp. z o.o.