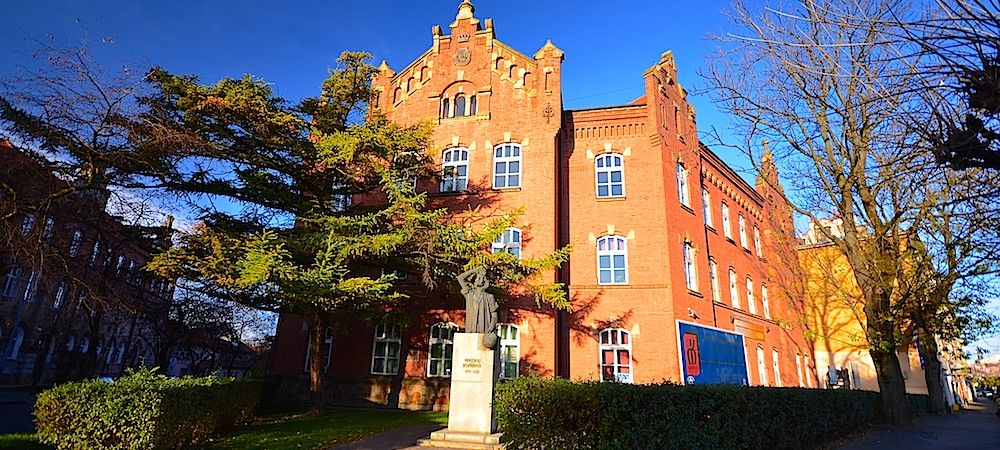 The building of the Complex of General Education Schools in Krosno
The neo-Gothic building housing of one of the best secondary schools in Poland, together with the adjacent building of the old Teachers College, are a testament to the role of Krosno at the turn of the 20th century.
---
The Polonization of the school system and the development of the school network in the autonomous Kingdom of Galicia and Lodomeria contributed to Krosno's ambition for its own secondary school. The efforts to secure it were successful and in August of 1900 His Imperial and Royal Apostolic Majesty Franz Joseph I decreed that Imperial-Royal Realschule be open in Krosno. The school opened already in September of 1900, with 26 students. At first, the school used the somewhat older building of the Imperial-Royal Teachers College and later the Bishop's Palace, but when the number of students exceeded a hundred it was decided the school needed its own building.
It was constructed in record time, to the design of Bolesław Mańkowski. The building work started in March of 1904, and the lessons in the new building started already in September 1905.
The building is a typical representative of a style popular in Galician public utility buildings at the turn of the century, with dominant neo-Gothic features emphasised by the use of brick. The façade is especially noteworthy for its avant-corps topped with a triangular gable. For decades, this exceptional educational establishment – first named after Saint Casimir Jagiellon and in 1921 renamed after Nicolaus Copernicus – has educated thousands of people, many of whom have made their mark on the history of Krosno and many other places all over the world.

In front of the school, there is a memorial to its patron, Nicolaus Copernicus, by Stanisław Kochanek, an artist from Krosno. Its unveiling was part of the celebrations of The Copernicus Year.

Next to the school, there is the building of the old Teachers College, built in a similar style. They both contribute to the unique atmosphere of the Piotra Skargi street. The Teachers College was established in Krosno In 1895, and came into the ownership of the new building in 1989. The infill connecting the building of the college to the somewhat older student boarding house, was built in Gomułka's times and both disturbs the architectural character of the place and demonstrates the strength of the educational system of Krosno.



---
fot. T. Okoniewski