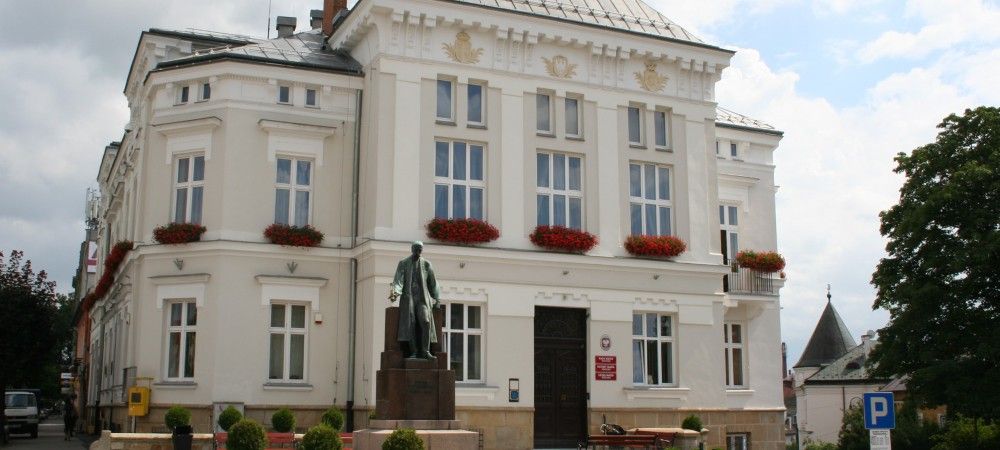 The building of the District Council
The present seat of the Mayor of Krosno, and the old seat of the district authorities, is one of the most beautiful public utility buildings from the times of the Galician autonomy in the region.
---
It was at a time of changes in the Kingdom of Galicia and Lodomeria, which led to the Galician autonomy, that the District of Krosno was created. The first District Council was chosen at the end of 1868 and it comprised "the most outstanding citizens of the District, both villagers and town dwellers." The first chairman of the District Council – the Speaker of the District – was Stanisław Starowiejski, and he held this office for 25 years. After his death, it was taken over by August Gorayski and it was during his time in office that the proposal for building a new, more impressive seat for the District Council was put forward.
Two plots of land, conveniently situated at the traffic route to the south opposite the Capuchin church, near the post office and the old marketplace, were bought at a public auction. The building work began in 1901 and the edifice, designed by Oskar Łoziński, was ready in 1904. Despite the many historic changes, including regaining independence by Poland and the introduction of socialism, the building served as the seat of the District Council until 1975, when the District of Krosno was replaced by the Province of Krosno. It then continued as the seat of the province authorities, until 1986. In 1991, after renovation, it became the seat of the town authorities.
It is now a two-storey building, eclectic in style, with stucco decorations on the elevations and made taller by the avant-corps on the frontage. There are also decorations inside – in the hall, the stairwell and the conference room.
---
fot. archiwum UM Krosna