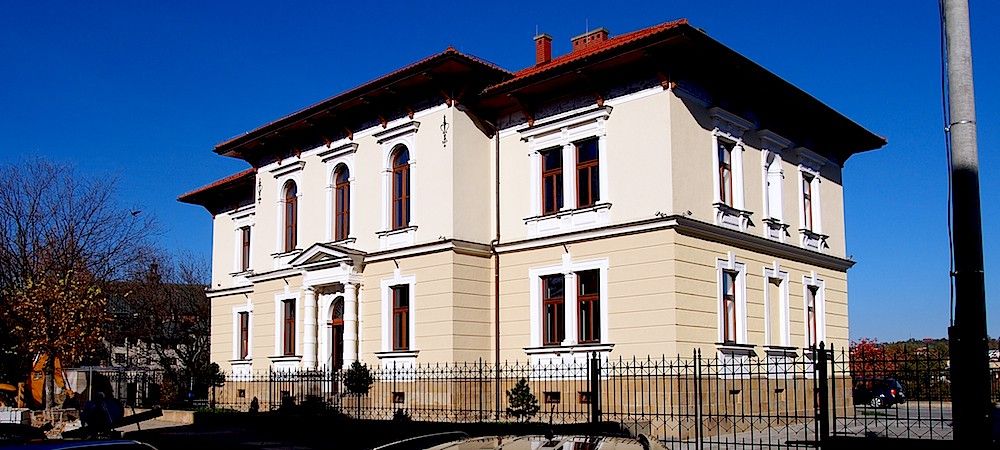 The building of the Loan Society
The building of the Loan Society is one of the most beautiful in town and an example of the neo-Renaissance style rare in Galicia.
---

What is more, it is linked to the best traditions of the region. It was built in the years 1893-1894 to the design of Adolf Stapf. It catches the spirit of Italian Renaissance with its portico leading to the main entrance supported by two columns, decorative window frames, the eaves of the roof and the sgraffito frieze below, made by Franciszek Daniszewski, a painter from Krosno.

While the form of the frieze may bring Italy to mind, the subject matter is distinctly regional as the frieze shows scenes connected with weaving and oil mining, as well as portraits of Tytus Trzecieski, Karol Klobassa and Ignacy Łukasiewicz. Why them?

They are the ones who, when the Loan Society was formed at the initiative of the District Council in 1874, supported it with the most substantial sums of money. This is hardly surprising if you know that they formed the famous "oil triumvirate" and contributed both to the discovery of new applications of oil (Łukasiewicz) and to using the patent on an industrial scale. Łukasiewicz, Klobassa and Trzecieski formed a partnership and made an enormous profit on the exploitation of oil deposits, but they donated some of their income to the public good, including the Loan Society.

Today, the activity of the Loan Society could be described as cooperative banking, aiming primarily to support business initiatives in the region and improving its economic situation. The Society was formed with the share capital of 8000 florins, contributed by the District Council and private benefactors. Almost 20% of this sum was contributed by "the triumvirs", and already twenty years after its inception the annual turnover of the Society came to around two million florins. It is not surprising then that the Society could afford such a magnificent building.






---
fot. archiwum Arete sp. z o. o.