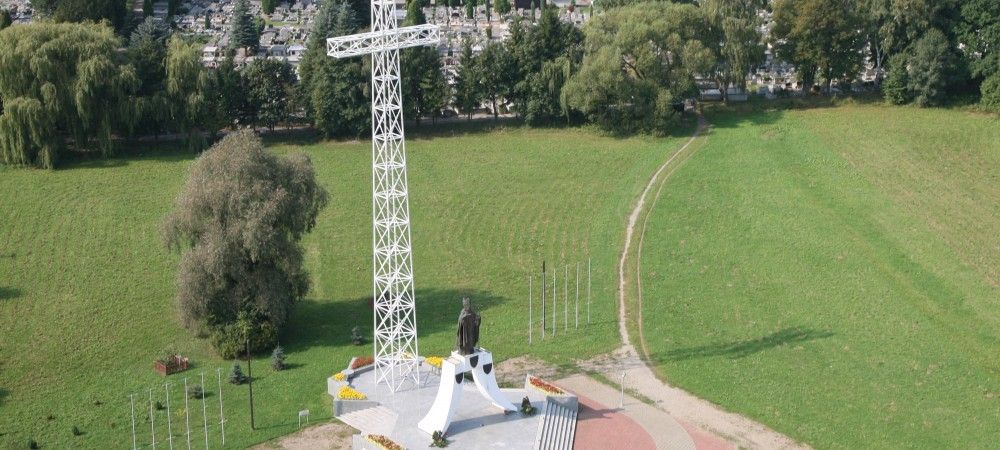 The Statue of John Paul II and the Cross
The statue of Pope John Paul II and the cross next to it are unique in form and in that they clearly show that in 1997 the Pope visited the region of oil.
---
John Paul II visited Krosno on 10 June 1997 to celebrate the canonization mass for St John of Dukla, in which over five hundred thousand pilgrims took part not only from all over Poland, but also from other countries, including Slovakia, Hungary and Ukraine.
The only place in town which could hold such a gathering was of course Krosno's airfield, where an altar was built with the characteristic cross, designed by Barbara and Wincenty Jankowski. Its style alludes to the oil wells, widely associated with the region.

What is more, it was built by the oil mining specialists from the Naftomet Oil Drilling Equipment Factory. Their experience helped them to complete this enormous task easily – even though the cross is 37 metres tall and its arms span 10 metres. It was manufactured in two parts that were only welded together on the site, where the cross was connected to the structure of the altar. The greatest challenge of the project turned out to be transporting the elements of the cross, which required not only extreme professionalism but also cutting down a few trees.

The canonization mass, concelebrated by over a thousand priests of Roman, Greek, and Orthodox rites, went down in history as one of the most memorable events and the cross was now to perform another function. Moved to the common at the entrance to the town, it was to become a lasting memorial to this extraordinary event. Hardly anyone believed the monumental cross weighing 9 tons could be transported, now in one piece, but the mission was accomplished and perhaps the biggest "oil" cross joined the list of Krosno's attractions.

Next to the cross, there is a statue of the Pope designed by Sister Augustyna Marek from The Little Servant Sisters of the Immaculate Conception convent in Stara Wieś and made by Stefan Kowalówka. It was unveiled on 20 June 1999.



---
fot. archiwum UM Krosna