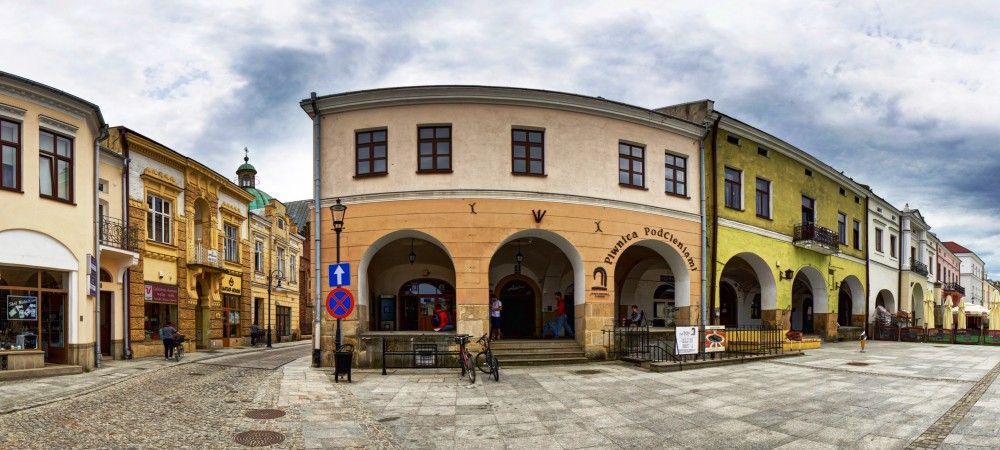 The Town Council house or Curia Praetoriana and The Piwnica PodCieniami Gallery
The corner house at no. 5 is situated where the Franciszkańska street and Rynek meet. It was built in the first half of the 16th century and is one of the most elegant houses in Krosno.
---
In 1514, it was bought by the town council and made the town hall, hence its other name of Curia Praetoriana. It functioned as the town hall at a pivotal point in the history of the town – directly before and after the town council bought the title of Vogt.
This is where, since 1514, town council meetings and sessions of the court consisting of the Vogt and jurors took place. It is also where the final decisions about buying the Vogt's title were made, and its price was perhaps also negotiated here. It is almost certain that this house is where the town councillors of Krosno and their mayor enjoyed the privileges that went with the Vogt's title for the first time.
Currently, Curia Praetoriana houses the Tourist and Cultural Information Centre on the ground floor and the Piwnica PodCieniami Gallery in the old cellars, that is the concert and exhibition rooms of the Museum of Crafts.
Take a virtual tour of Piwnica PodCieniami
---
fot. archives of Municipal Office and Museum of Crafts